We are writing to you with exciting news of a new development at Faith Broadcasting Network. Over the last 22 years we have had the privilege of sharing the gospel with millions of people across the world through our satellite and terrestrial distribution. As you are also aware – since you have been so faithful in supporting and praying for our mission to saturate the earth with the Good News – we started to explore ways in which to increase our digital footprint about 6 years ago.
All industry research indicate a definite move towards digital deliveries, since users are increasingly accessing information via smart devices. We live in a world where users are wanting information, entertainment and connectivity at their fingertips; what better way to reach multiple people with the gospel than to place it right in their hands, accessible at a moment and in the comfort of of the surroundings wherever they are!
Over the last 6 years we have made some great progress, and in the Christian and lifestyle market, pioneered many ways in which to effectively communicate with a growing and changing audience. Having taken everything into consideration, and in line with leading market research, FaithUSA will be moving to a purely digital format from April 1, and will be available on the FaithNOW App.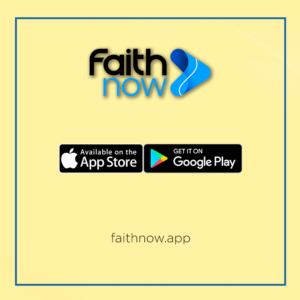 This effectively means that FaithUSA will no longer be distributed terrestrially as a channel via your television, but you are still able to watch all your favorite speakers and programs. Using your home computer or any of your smart devices, you are still able to air play FaithUSA directly to your TV, or if you have a SmartTV, ROKU, FireTV, AndroidTV or Xbox watch directly through these platforms in the comfort of your home!
We are trusting that you will continue to choose FaithUSA as your favorite channel to watch wholesome Christian content, and to encourage your family and friends to do the same. Visit our website, faithnow.app, for more details, or simply go to the AppStore or GooglePlay and download FaithNOW today! You will soon see the added benefits that FaithNOW offers – in addition to the 24/7 stream of FaithUSA (called FBN on the app), you will also have access to other 24/7 channels, together with a host of additional content such as movies, documentaries, talk shows, music, children's programs and even radio channels and podcasts.
New content is added weekly to the FaithNOW app, ensuring you have fresh content constantly to encourage and inspire you! You can take the FaithNOW app wherever you go – home, gym, shopping, driving, or just spending a quiet picnic outside in the sun!
You are welcome to call +1 (239) 693-2484 for any help in getting connected to the new digital platform.