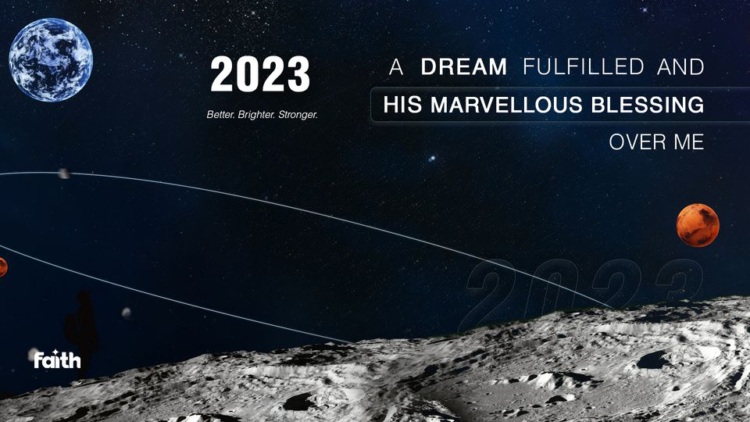 Happy New Year! 2023 is here and we want to declare the Word of the Lord for this year over you!
This is the year of dreams fulfilled, and God's manifest blessing over us!
Let's take this word by faith, believing and expecting to see it come to pass!
There's more good news to celebrate over ….
REVIVAL 6.0 is just around the corner!  For those of you who haven't already done so – REGISTER NOW!!!!
We can't wait to meet you at the Great Faith Dome from 26 February to 5 March!
GET READY FOR THE FIRE OF GOD AND TIMES OF REFRESHING IN HIS MANIFEST PRESENCE!
Hallelujah! Praise the Lord for His goodness to us and faithfulness to perform His Word concerning us!
Psalm 18:30 says, "As for God, His way is perfect; The word of the LORD is proven; He is a shield to all who trust in Him." Whatever this new year brings, one thing we can be certain of is that we serve a God Who's way is perfect.  As we choose walk each day in communion with Him, opening our hearts to the truth of His Word, we will prosper and succeed in all we put our hand to! (Psalm 1:3). 
Romans 8:14 says, "For as many as are led by the Spirit of God, these are sons of God."  Since we are His children, we have been given the privilege to be led by Him! That's because we have been given the special gift of having God's Own Spirit living in our spirits.  Our inner-man is directly connected to Him. It's in this place that the Holy Spirit continuously speaks to us, leading and guiding us into all truth.
Proverbs 20:27 says, "The spirit of man [that factor in human personality which proceeds immediately from God] is the lamp of the Lord, searching all his innermost parts." (AMPC).
We can be led by the Spirit of God in every decision we make this year, if we confidently trust the Lord to lead us into the things that are His very best for us. When we pay attention to Him, acknowledge Him in all we do, and keep our minds and hearts fixed on His Word – He takes the lead!
Isaiah 49:10 says, "They shall neither hunger nor thirst, neither heat nor sun shall strike them; for He who has mercy on them will lead them, even by the springs of water He will guide them."
This is the promise of God for His children who listen and obey His voice. We will lack for nothing, the 'heat' or pressures from the world around us will not bother or harm us, and because of His great mercy, He will guide us into places where there will always be a fresh supply of His supernatural strength and power!
As you follow the leading of the Lord concerning your giving into the ministry today, we rejoice with you, knowing your obedience to His voice will lead you to a place of no lack, but abundant, supernatural blessing instead!
We love you dearly!
Don't forget to register for Revival 6.0!  Excited to see you there soon!